Caricature: A Thumbnail Sketch
POSTED ON: October 05 2015 CATAGORY: FEATURES
The art of caricature is defined as rendering images showing features in a simplified or exaggerated way. The images were originally made to mock aristocrats and the like, but are now are a common form of humorous street art.
The word caricature itself comes from the Italian 'caricare', meaning to charge or to load. This explains the loaded features portrayed in the images, often characters with oversized noses and other features lend a comedic element to the artwork.
The art of caricature has been around for a long while; Leonardo Da Vinci was an early proponent of the style – he in fact deliberately sought out people with deformities to use as models so as to make for a more interesting piece of art, making studies of 'bizarre heads'. The style of not strict representation was uncharacteristic to the art of the time, but was welcomed for its satirical purposes, often poking fun at overbearing aristocrats or military generals. The artwork enjoyed early success in aristocratic circles in France and Italy for the simple mutual enjoyment of taking the mick out of each other.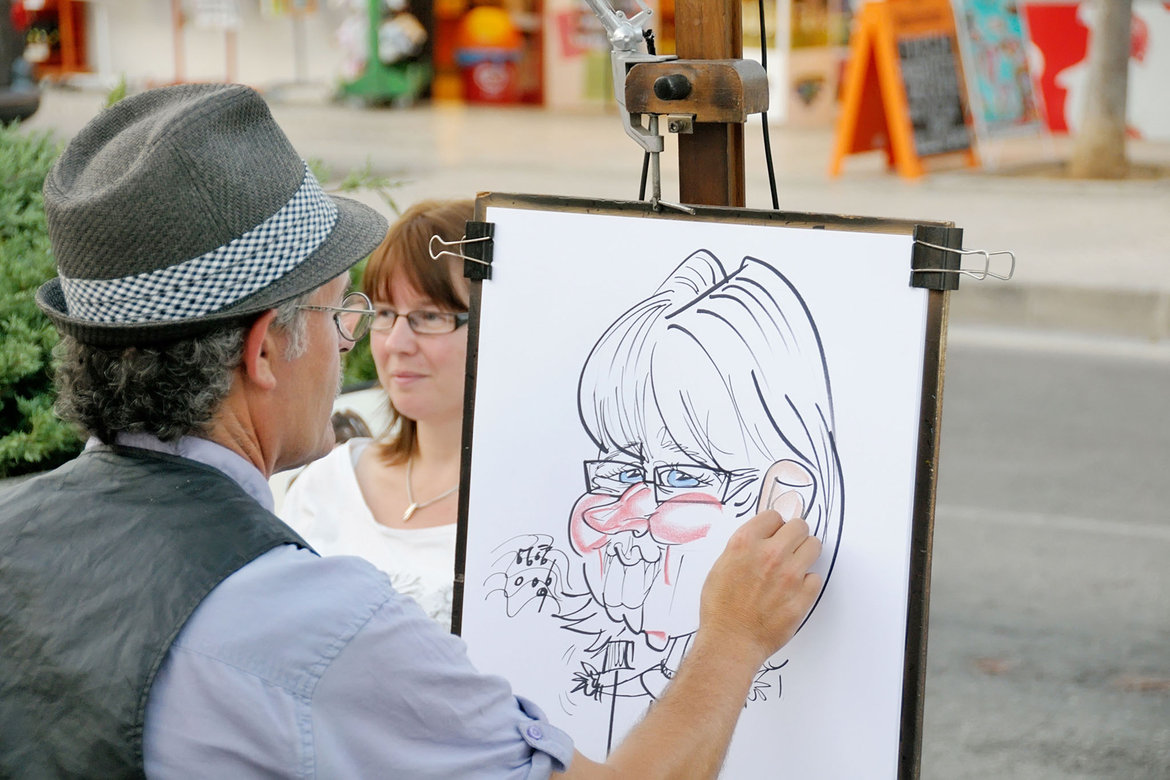 Indeed some of these early mocking pieces of art were influential in history's view of the person in question. Even now most of us entertain the idea of a comically short dandy in a big hat as our lasting impression of Napoleon, although a short man, his height among other characteristics was the subject of some derision from artists during his lifetime – particularly James Gillray, whose etchings do the most to further the stereotyped image we have of Napoleon.
There are numerous museums dedicated to caricature throughout the world, including the Museo de la Caricatura of Mexico City, the Muzeum Karykatury in Warsaw, the Caricatura Museum Frankfurt in Frankfurt, the Wilhelm Busch Museum in Hanover and the Cartoonmuseum in Basel. The first museum of caricature in the Arab world was opened in March, 2009, at Fayoum, Egypt.


Although recently the art of caricature has been the contentious subject of much discussion, with the terrible events with Charlie Hebdo in Paris, the art form remains a harmless form of comic art, without necessarily any political intentions. The artists can be seen on the streets of all types of towns and cities around Europe, and indeed the world, offering tourists and locals alike to take a seat for a few minutes with the result of a highly entertaining portrait of themselves at the end of it all.
Centre Stage's performers page is home to many talented caricaturists, perfect for entertaining all the guests at any private or corporate event you may be planning. Feel free to get in touch with one of Centre Stage's agents to discuss booking any of the caricaturists available for booking through the agency on 0800 179 9424 or info@centrestage-agency.com.